Flash Point Test Procedure:
Procedure: Solvent-type products (those that form two distinct layers, as seen in the previous demonstration) will often have a flash point that is low enough to be dangerous. If the flash point (sometimes even the fire point) is at, or below room temperature, that fact can be demonstrated as follows:
Pour a small amount of the competing product into one of the metal dishes.
Keep another metal dish handy to smother the fire, should the product ignite, during the next step.
Pass a lighted match slowly accross the surface, about ¼ inch above the product.
Repeat steps 1 & 2 with Alken Even-Flo® to show that our product will not ignite.



Sludge Dissolving Test Procedure:
Place a small dab of sludge in the center of two metal dishes
Add 3 drops of water to both
Cover the whole with a heavy non-detergent motor oil (SAE 30 or equivalent). This simulates conditions at the bottom of an oil-tank. The motor oil allows the action to be visible.
Add 2 droppers of competitive treatment to one dish and 2 droppers of Alken Even-Flo® to the other.
The surfactants in Alken Even-Flo® will begin to attack the sludge and emulsify the water, while the competitive treatment will show little action other than a slight solubilization of the sludge.
At times, it may be advantageous to hasten the action by slightly warming the dishes with a lighted match held under them Be careful using a competing product with a low flash point.

Surface Tension Test Procedure: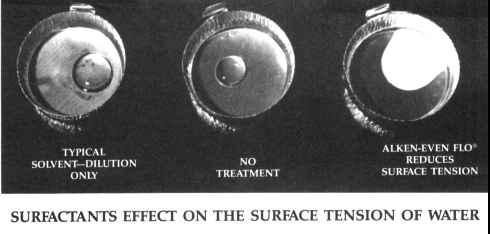 Place a drop of water, about ¼ inch in diameter, in each of two aluminum weighing dishes.
To one of these dishes, add a drop of the competitive product, to the other add a drop of Alken Even-Flo®. Add the products very gently by just bringing the drop of treatment into contact with the edge of the water drop.
Most competitive products will simply surround the water drop and slightly increase its size. Alken Even-Flo® on the other hand, will reduce the surface tension of the water to such an extent that it will immediately spread over the entire surface of the dish.